ARRA News Service
:
ObamaCare Exchanges Are NOT A Done Deal!
Our Partners at Americans For Limited Government are tracking updates as they occur.
The following is the most current information as of 3:16 PM Eastern on November 19.
---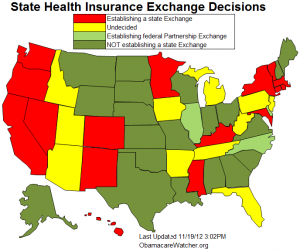 By John Vinci
— Governors and other state officials, across the states, are deciding whether their state will establish a Health Insurance Exchange. The Department of Health and Human Services has given States until Friday, December 14, 2012 to decide. We have been following this issue closely and here's the status of the states as best as we can tell.
.... [
Full Report
]
Brief Summary:
-
20 States NOT establishing a State Exchange
-
This includes Florida.
Note on FL:
Florida Gov. Rick Scott Ready To Negotiate State Exchange
Kaiser Health News
(November 16, 2012).
-
11 Undecided States.
- 3 States opting to establish a federal "partnership" Exchange.
- Presently, only 16 States plan to establish a State Exchange.
---
Tags:
Obamacare, states, status, health insurance exchanges, Florida
To share or post to your site, click on "Post Link". Please mention / link to America's Best Choice. Thanks!