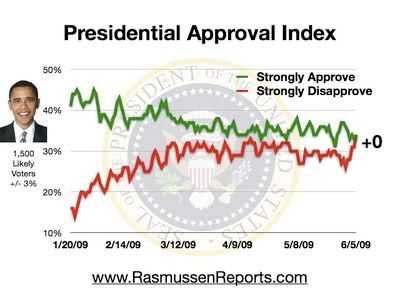 Originally posted on
America, You Asked For It!
The latest Rasmussen Presidential Tracking Poll shows Americans are waking up to the fact that President Obama is leading us down the road to ruin. Though the MSM still showers him with praises and makes every effort to cast him in a good light, his numbers are slipping. Today's numbers have 34% strongly approving of the President's performance and 34% strongly disapproving. These numbers are a far cry from the 44% to 16% margin he enjoyed the day he took office.
Mike's America
has a great post on this where he digs a little deeper and has some issue-specific numbers as well. I went ahead and plotted the data in Excel and did the math to find the trend lines to compare. You can view the graphs
here
.
If these trends continue, Obama won't long be enjoying the approval of a majority of Americans. In fact, around his 228
th
day, those who approve and those who disapprove of the President's performance will each make up 50% of the US population unless he can turn things around. That should be somewhere in the neighborhood of Labor Day. We'll keep an eye on Rasmussen's poll to see what happens.