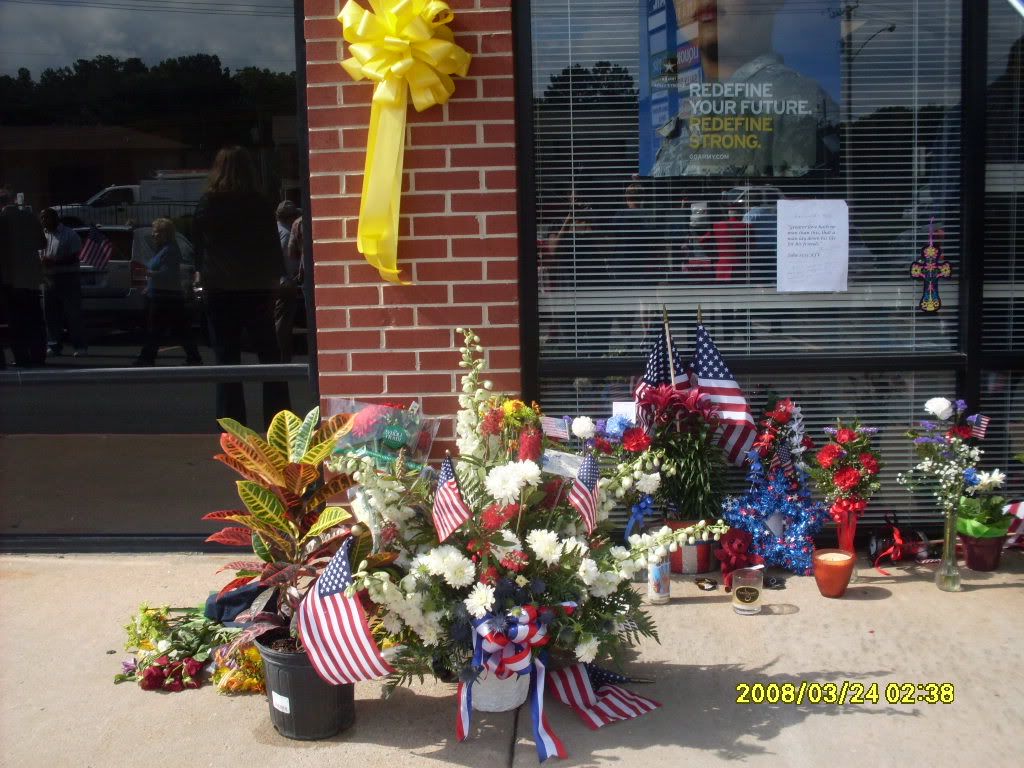 At 4:00 pm Thursday, a crowd gathered at the scene of the first terror attack on US soil since 9/11 to pay tribute to Pvt. William Long and Pvt. Quinton Ezeagwula. Long was slain on June 1st by an American citizen who called himself Abdulhakim Mujahid Muhammad, but was born Carlos Bledsoe, a name he used before he became a radical Islamic terrorist.
Though the mainstream media and government officials largely downplayed or ignored this heinous attack, Secure Arkansas sought to bring it to the public's attention by organizing a rally to support the troops and honor the men who so unexpectedly became the latest casualties of the War on Terror.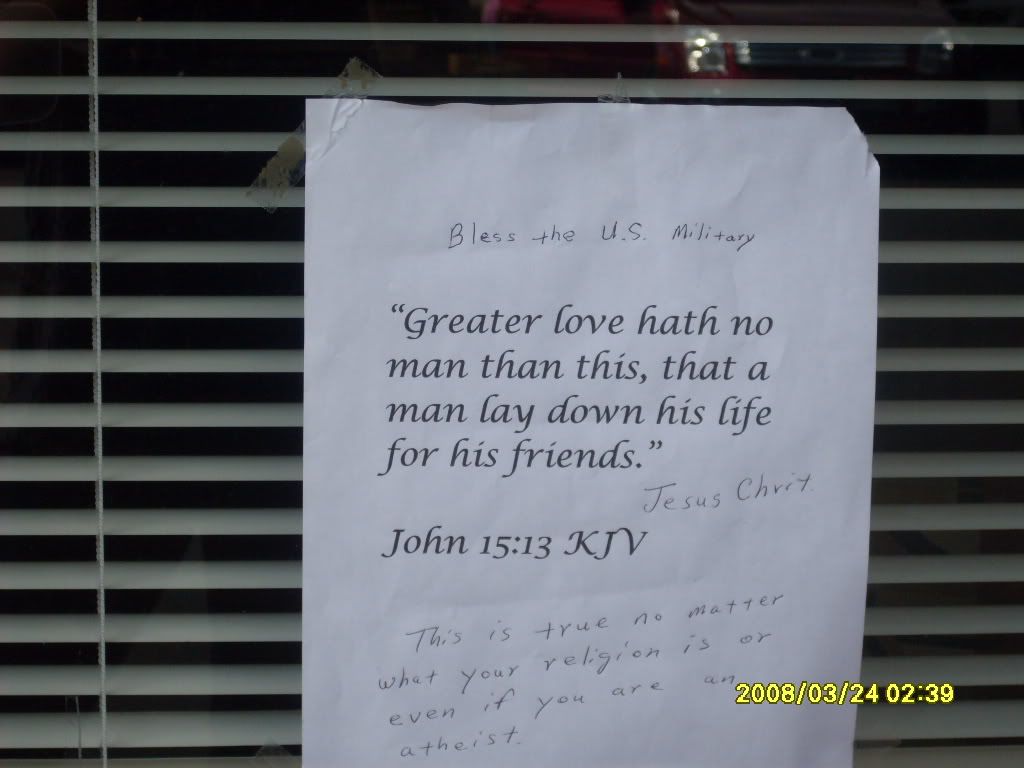 The rally began with Ms. Jeannie Burlsworth, founder of
Secure Arkansas
, leading the crowd in the Pledge of Allegiance. Ms. Cindra Bell then sang the Star Spangled Banner and Kime Eubanks offered a prayer for the murdered soldiers and their families, all American servicemen serving across the globe, and for our country's safety in this time when our own soil is no longer a safe harbor from the hate-filled and violent radical Islamists who seek to destroy us. The local Army Recruiting Commander, Capt Mathew Feehan then thanked the crowd for supporting the troops and Rex Roark of the Governor's Commission for Veterans' Affairs followed with comments on the sacrifices made by American servicemen and women serving both here and abroad. Jim Porter, past Post Commander of VFW Post 10483, then spoke on the need to bring back the level of support shown to American troops during and following WWII. State Representative Ed Garner then closed by honoring Long and Ezeagwula thanking the crowd for doing so.
Several men and women stood at the street holding signs (see photos below) to encourage others to stop and participate in the vigil. Though I was standing in the parking lot and not close to the street, I couldn't help but hear the screams of an angry woman taking issue with those of us present at the rally. When I turned and looked toward the disturbance, I noticed a woman stopping her car on busy Rodney Parham Rd. in heavy traffic next to every person holding a sign. She was leaning across the seat to shake her fist and scream something unintelligible from my distant vantage point. However, the woman parked her car and stationed herself among those sign-carriers promoting the rally, but holding a small sign which proclaimed "Islam is Peace." She then began ranting about government involvement in 9/11, our "terrorist" actions in the war in Iraq, and that we were all brainwashed by the press which was complicit in some conspiracy with our government to wage war on Islam. When I asked the woman if Bledsoe committed this atrocity in the name of Islam, she refused to answer.
Those attending were then invited to proceed to American Legion Post #1, where David Hall had stationed himself with his
Traveling Liberty Bell
. All in attendance were asked to ring the bell in honor of Pvt. Long and donations were taken for the
Wounded Warrior Project
in Long's name.
Special thanks to my daughter, Amanda, who attended the rally with me and served as my photographer and videographer. She took the video above and you can view her photos of the memorial
here
.